Tectoniks Excels at The Showman's Show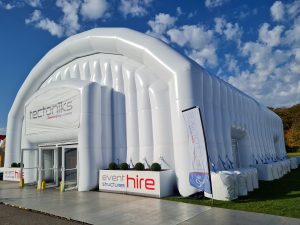 Tectoniks' exhibit at the Showman's Show – the first in 15 years – was a resounding success. The minute you stepped through the gate, our inflatable event structure caught your eye. Designed and produced by Tectoniks, the Dawsongroup company that won the Queen's Award for Enterprise for Innovation 2022, the 12.5-metre event structure wasn't the only item on display. Inside was the multi-functional Temp°store 26, set up at a temperature of -18°C and complete with ice cream from Jude's, one of Dawsongroup's customers.
Innovative Inflatable Structures
The innovative inflatable event structures from Tectoniks were first created in 2006 and have since progressed into a range of designs to suit any purpose, from bespoke event structures to industrial warehousing to chilled storage for vaccines or food. The 10m and 12.5m event structures are Tectoniks' first foray into the event structure rental market. Traditionally, they have always made bespoke structures for the event industry; however, since becoming part of Dawsongroup in 2018 they have gained the resources to move into the rental market.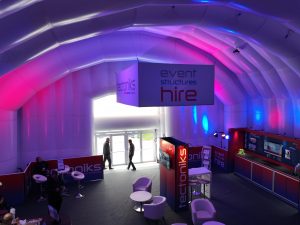 Tectoniks has developed its range of event structures to have special frontages that can be custom branded. The choice of structures offers the same advantages as traditional event structures in terms of time of deployment, but also offer more comfort in terms of temperature and insulation. They are unique when compared with traditional marquees and standard event structures – they can be easily expanded to a range of sizes, and they have excellent acoustic properties which makes them ideal for audio visual performances.
The 10m and 12.5m event structures also offer a degree of soundproofing that traditional marquees don't have, which is of particular benefit when exhibiting in a sound sensitive area. The technology used in the structures operates at a higher pressure than typical inflatables, so they have greater resistance to wind and bad weather, giving them the same building code standard as permanent structures. Not only are they ideal for any kind of event, but they can also be adapted to suit customers' specific needs.
"We can work with event organisers on any special requirements such as sound or lighting," said David Kelsall, Technical Director for Tectoniks. "On the branding side, clients can add their own artwork, either in the form of printed banners attached to a structure that has been hired or a completely bespoke solution can be printed directly onto purchased structures at the manufacturing stage."
The Wow Factor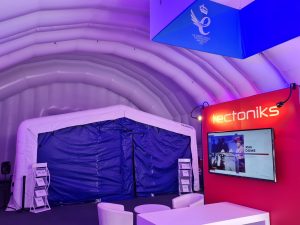 The Showman's Show was a fantastic opportunity to showcase Dawsongroup's latest rental option, and it didn't disappoint.
"This is one of the best events Dawsongroup has ever done," said Chris Allen, General Manager for Tectoniks. "Footfall was good, and we had some good enquiries. Our event structure has impressed everyone, especially as you can do so much with it, whatever you want it to do."
Everyone who came into the structure commented on how dynamic and robust it is. Fabric technology is relatively untouched and has immense possibilities – and Tectoniks has just begun to explore those possibilities.
"The visual impression of our event structure has been marvellous," said Kelvin Oakley, Factory Manager for Tectoniks. "The first thing everyone has done when they've walked in has been to look up and say 'Wow'. We've had really good feedback from everyone, mostly that it's so different to the norm, it's usable, sectional, and very adaptable. All the hard work the staff have done to create and produce this to such a high standard is incredible. Receiving the Queen's Award has really made a difference as well. We can't produce structures fast enough at the moment!"
For an event structure with the wow factor, contact Tectoniks today, for portable temporary chilled storage contact Dawsongroup | temperature control solutions, or contact DGPCC for process and climate control solutions. Find out more about Dawsongroup's Smarter Asset Strategy and the solutions we can provide for your business.