The Future of Dawsongroup Process and Climate Control at Avonmouth
In January, our Avonmouth supersite welcomed a team from Dawsongroup Process and Climate Control (DGPCC), a specialist subset of Dawsongroup tcs that offers commercial cooling, dehumidifying, and climate control solutions. Avonmouth has provided DGPCC with a base from which to reach customers in South Wales and Southwest England, and it's already having a positive impact on the business.
Rapid Response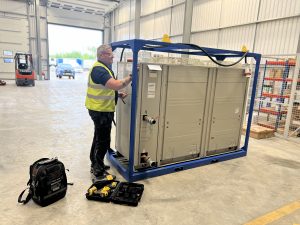 While the Sutton-in-Ashfield site has been a great home for the team, the distance from areas such as Somerset, Wiltshire, South Wales, Hampshire, Dorset, Devon, and Cornwall has made it challenging to provide rapid emergency responses in those locations. Each emergency call requires in-person surveys and measured plans from our team of in-house engineers before the right solution can be installed. Whether our customers are facing a full equipment breakdown or a decrease in efficiency, DGPCC aims to get them back up and running with minimal delay and disruption.
The supersite at Avonmouth offers the ideal solution to this concern. The additional space, convenient location and our modern, energy efficient, state of the art fleet allows the DGPCC team to provide customers with the right solutions for their needs. The significantly reduced response time ensures that equipment downtime is kept to a minimum.
"We've grown our presence in the south and southwest," said Will Barnes, Area Sales Manager for the Southwest for DGPCC. "The site facilitates excellent service for our customers and enables us to provide solutions for any problems they might be encountering with their HVACR or process cooling requirements."
Welcoming and Convenient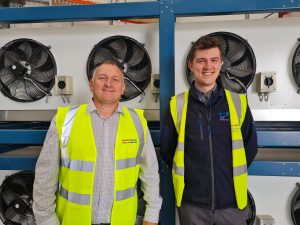 Avonmouth is a modern site with state-of-the-art equipment available for short- and long-term hire, and customers are welcome to visit. Site visits are an essential part of our Smarter Asset Strategy, as they allow customers to explore DGPCC's full range and discuss their needs with our team of experts.
"Our presence at Avonmouth provides our clients with the whole package," said Brett Allen, Operations Manager for DGPCC at Avonmouth. "Not only do customers get to see our equipment in person, but they also get the full support of our team. We're here to answer technical questions and complete installations to suit their needs."
The beauty of Avonmouth is that multiple Dawsongroup businesses operate out of the site. Every customer brings something unique to the table and our supersite offers customers the opportunity to explore multiple options to fulfil their requirements. We're committed to ensuring that every customer we meet has the right solution for them.
"It's been fantastic to work out of Avonmouth," said Colin Simmons, Sales & General Manager for Dawsongroup process and climate control. "We can invite our customers to visit the site, see the kit we have to offer, and to talk to the team about the challenges they're facing and the solutions we can offer them."
Contact Us Today
Dawsongroup's Avonmouth supersite has an open-door policy for customers to visit its facilities. Contact us today to arrange a visit and a free consultation and find out how our Smarter Asset Strategy can provide the ideal solution for you today.