TCS Doubles Capacity for Nutriment
Nutriment has revolutionised the raw pet food industry, and Dawsongroup has helped them by increasing their operational capacity – both in record time. In just nine years, Nutriment has already become recognised for the quality of its food, its focus on pet wellbeing and its wider values, winning awards for its innovation in healthy pet food and fast business growth.
Operating across two sites, Nutriment produces between 18 and 25 tonnes of frozen raw pet food per day. The majority of their products are nutritionally balanced complete foods, so pet owners don't need to add anything to make sure their dog or cat is getting all the nutrients they need.
Facing Challenges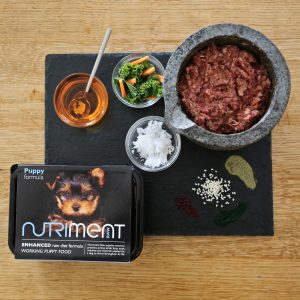 The challenges of Nutriment's success meant they needed to scale up their operation quickly, and to meet this challenge, Nutriment consulted with Dawsongroup TCS.
With their rapid expansion, Nutriment bolted on freezer capacity every year, which meant they had evolved in an inefficient manner and had a restricted provision for further growth in the future. Dawsongroup provided a new approach utilising our innovative solution service which focuses on environment control, process flow, and maximising available space, as well as options to flex and scale your operation without large capital demands. By focusing on the bigger picture, we established the most efficient solution for Nutriment's business application which would allow for their future growth.
Dawsongroup TCS looked at Nutriment's warehouse as a clean space by dismantling all the existing freezers. This new approach provided a frozen solution which facilitated larger onsite storage of pallets of finished products, improved the flow of picking customers' orders which packing teams could then pack more efficiently, and improved conditions for employees.
Martin Heal, Director for Nutriment, said, "We were very pleased to have a good working relationship with the pre-project team, the onsite team and the installation team. The solution from DGTCS worked, and we are a better business because of it."
Innovative and Quick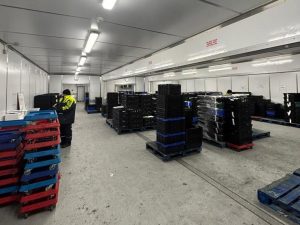 Through our Smarter Asset Strategy, Nutriment's operational capacity was more than doubled. Efficiencies were increased, energy costs were reduced, and a smarter, more efficient workplace was created, all in less than nine weeks and without compromising product integrity. This gave Nutriment the ability to continue its award-winning growth and keep delivering a healthy diet to more cats and dogs into the future. As an ambitious company, the ability to continue growing is crucial to Nutriment's operation and Dawsongroup has provided exactly that. Opportunities are limitless by utilising a Smarter Asset Strategy which offers a more flexible approach to futureproof operations, whilst minimising risk and protecting capital. This means that Nutriment is free to focus on winning contracts as the solution continues to develop with them.
Martin said, "Dawsongroup improved conditions for our employees. By better utilising the space, it allows pickers to work more efficiently and improve flow, reducing the movements in the building and doubling the amount picked per day."
Previously restocking of smaller freezers required pickers and packers to cease working whilst forklifts operated in their area; however, with the new layout, workers have an expanded, segregated space resulting in a happier and more efficient environment. By incorporating our Smarter Asset Strategy, Nutriment was able to scale up operations rapidly without large capital demands and create a better working environment for all employees.
Growing Together
Martin also highlighted that, "One of the best things is Dawsongroup being able to grow with us."
Growth is key at Dawsongroup and through our Smarter Asset Strategy we offer support in expanding asset provision as well as service and advice from experts within the field, which makes for a more efficient way of working at a reliable and high standard. Nutriment knows from experience we provide quick solutions with minimum disruption to operations.
The staff at Nutriment felt they were a better business with Dawsongroup's solutions. They emphasised the most exciting part was seeing the project progress and were pleased to have a good working relationship with the installation team the whole way through the journey. Dawsongroup continues to grow their working relationship as Nutriment plans to double in the next few years and triple in the next five. With the support of our Smarter Asset Strategy, we not only provide the solution from start to finish but also the expertise, trust and understanding to futureproof business operations.
Visit Nutriment for all your pet food needs. What would doubled production and storage capacity do for your business? Contact Dawsongroup TCS or Dawsongroup PCC today to move your business forward with our Smarter Asset Strategy.