Dawsongroup's Innovative Solution for Beckett's Foods
For nearly 40 years, Beckett's Foods has been providing the food service and retail industries with high quality bacon products. They produce over 1,000 tons of bacon and gammon each week and three million rashers of bacon every day at their two British Retail Consortium Grade AA sites, where they ensure all their food is fully traceable from farm to fork.
A family run business since the beginning, Beckett's has a passion to deliver bacon at its best. With five distinctly different bacon ranges, they pride themselves on going against convention to provide graded bacon rashers, ensuring their customers get the exact standard of products they desire.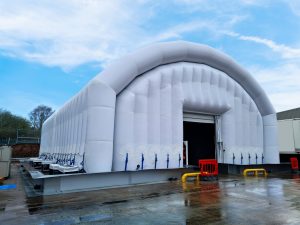 Dealing With Delays
Due to changes in EU policy and haulage challenges stemming from Brexit, Beckett's Foods began to experience delays in supply, making it difficult to maintain their just-in-time manufacturing processes. A missed or late delivery has substantial cost implications, not just to Beckett's but also to their customers, and it often pushes every other process back which in turn causes internal logistics issues in planning the sale of available stock.
Beckett's needed a rapid solution to these delays and turned to Rodger Norman at Dawsongroup | TCS. With an established relationship spanning more than 25 years, they already have experience of Dawsongroup's Smarter Asset Strategy. With a blast freezer, two blast chambers, a four bay temperature controlled modular complex and four holdover boxes to keep frozen goods at minus 18°C at their Coventry site, Beckett's have first-hand knowledge of Dawsongroup | TCS's excellent service and revolutionary products.
Innovative and Quick
As Beckett's needed chilled storage quickly, TCS's newest innovation was the perfect solution. Temporary inflatable structures are extremely versatile and ideal for any purpose. They are simple, robust, and quick to install, as they do not need the groundworks or construction time that traditional temporary buildings need. As well as being modular, they are available in various widths and lengths to meet any requirements, and the inflatable walls provide greater sound and temperature insulation.
A temporary instant structure was combined with Dawsongroup Process and Climate Control's air handling units and a specially designed insulated liner to maintain the internal temperature, producing Dawsongroup's first chilled inflatable warehouse. Boasting 173.5m2 of internal floor space, it took only five days to install, has a roller shutter door for easy access, and maintains a constant temperature of 4°C, ensuring the produce is always fresh for customers.
See below for more details about the technical aspects.
Flexible Solutions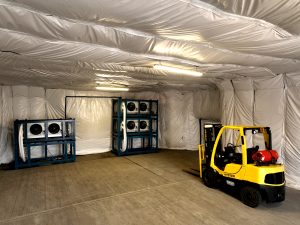 "Dawsongroup's solution has given us the capacity to store products so we can increase our output," said Carl Green, Head of Engineering at Beckett's Foods. "We can now store a few days' stock, which gives us a buffer if we have any delays. It allows us to plan and maintain our customer relations and expectations."
"We pride ourselves on working with our customers to provide solutions that enable their business," said Rod Benham, Managing Director of Dawsongroup | TCS. "The inflatable structure is our most flexible product; it can be adapted for any use. This installation for Beckett's shows that if we don't currently have what our customer needs, our Smarter Asset Strategy will enable us to innovate the perfect solution to help the customer move forward."
Now that Beckett's is part of CPC Foods Limited, market leader for various meat products in the UK and a division of Tönnies Group, they are all about future growth. They want to keep expanding and improving their systems to get the maximum amount of produce out to their customers, whilst ensuring their high standards are constantly maintained, and Dawsongroup plans to continue providing them with the solutions they need to succeed.
Technical Aspects
The cooling system from Dawsongroup Process and Climate Control included a glycol chiller connected to high velocity low temperature air handling units.
Tectoniks, Dawsongroup's specialist inflatables company, designed and produced the insulated liner to maintain the internal temperature.
The structure for Beckett's Foods consists of a 12-metre-wide arch module with a length of 20.25 metres and height of 8.55m at the centre.
The end wall contains a roller shutter door over 3.5 metres wide to allow for forklift trucks to drive in easily.
The total internal floor space is 173.5m2.
The lack of any solid structure provides the added bonus of nowhere for birds to perch.
Visit Beckett's Foods to find out about bacon at its best. Find out more about inflatable structures and temperature control solutions at Dawsongroup | TCS and Dawsongroup Process and Climate Control, and visit Dawsongroup to find out more about our Smarter Asset Strategy.
To find out how Dawsongroup can support your business, request a free consultation with a Dawsongroup expert by completing the contact form below.